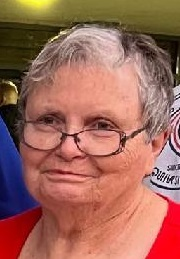 Obituary of Deborah Louise Patsos
Please share a memory of Deborah to include in a keepsake book for family and friends.
WATERLOO/JUNIUS – Deborah L. Patsos, 75, of Junius, died unexpectedly from an automobile accident Thursday (October 13, 2022) in the Town of Tyre. Family and friends may call from 1:00 p.m. to 3:00 p.m. and 5:00 p.m. to 8:00 p.m. Wednesday (October 19) at Coe-Genung Funeral Home, Waterloo, NY. The funeral service will be 10:00 a.m. Thursday (October 20) at St. Mary's Catholic Church, Center St., Waterloo, NY. Rev. James Fennessy, pastor, will officiate. Burial will be in Maple Grove Cemetery, Waterloo, NY. In lieu of flowers, memorial contributions may be made to: St. Mary's Catholic Church, 25 Center St., Waterloo, NY, 13165 or Trevor's Gift Backpack Program, c/o Linda Wadhams, Main Street Shoppe Center, Suite 212, Waterloo, NY, 13165. Deb was born September 10, 1947, in Waterloo, NY, the daughter of Erich and Catherine Marshall Cottrell. She was a 1965 graduate of Waterloo Central High School. Deb was a 1968 graduate of FIT with a degree in Fashion Merchandising. Later, she graduated in 1999 from Empire State College with a Bachelor's Degree in Social Work. Deb retired from the Seneca County Department of Human Services, after 30 plus years of employment with the department. She also worked alongside her husband on the family farm, Beltavern Farm. Deb was a community minded person participating in many organizations. She was a devoted communicant of St. Mary's Catholic Church, Catholic Daughters of America Court Theresa 806, and enjoyed singing with St. Mary's Folk Group. Deb was also an active member for the Seneca County Community Christmas Project, Phi Beta Psi Sorority, Trevor's Gift Backpack Program, the Board of Directors for the Waterloo Library and Historical Society, the House of Concern Board of Directors, New York Ayrshire Club, Cayuga Action Program, and Betsy's Room at Five Points. Deb was a 4-H leader for 35 years. She served as a co-facilitator for the Seneca County Bereavement Support Group and a facilitator for Stepping Stones, a bereavement support group for children and adults. Deb was an avid gardener and needleworker. She was proud that she could crochet a blanket or sew a quilt for gifts for her family. Her plants and gardens were her joy and she froze or canned food from her garden to feed family and friends who joined Jimmy and her for dinner. She devoted her life to her much, loved family and community. Deb is survived by her husband of nearly 54 years James G. Patsos, Jr.; daughters Alicia (Thomas Morehouse) Patsos of Waterloo, NY and Amy (James) Hakala of Rome, GA; sons Michael (Jodie) Patsos of Baldwinsville, NY and Brian Patsos of Huntsville, AL; grandchildren Ericha (John) Weeks, Andrew Patsos, Dylan Bronson, Sean Bronson, Chloe Hakala, and Samuel Hakala; great-grandchild Casey Weeks; sister Kathy (Ronald) Serven of Waterloo, NY; aunt Carol Gillotte of Manchester, NY; many nieces and nephews.; dear friends Anna Marie Schmucker and Doris Wolf; and many many friends. Deb was predeceased by her son Matthew; her parents; in-laws James, Sr. and Margaret Patsos; sisters-in-law Carolyn "Keyo" Griffiths and Margaret Evans; and niece Janice Serven. Condolences and remembrances may be sent to www.coegenungfuneralhome.com.
To send flowers to the family or plant a tree in memory of Deborah Patsos, please visit Tribute Store
Share Your Memory of
Deborah