coegenungfuneralhome@yahoo.com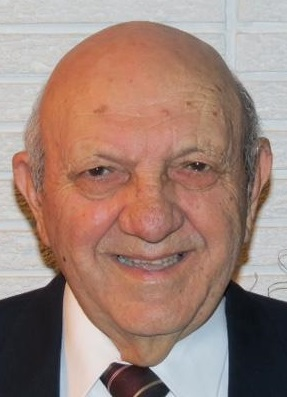 Obituary of Charles Battaglia
Waterloo – Charles L. Battaglia, Jr., 91, of 95 Church St., passed away peacefully in his home on Tuesday (October 2, 2018).
Per his wishes, there will be no calling hours. The funeral mass will be 10 a.m. Saturday (Oct. 6) at St. Mary's Catholic Church, Center St., Waterloo, NY. Rev. Michael Merritt, will officiate. Burial will be in St. Columbkille Cemetery, Seneca Falls, NY.
In lieu of flowers, donations in his memory may be made payable to the Waterloo Educational Foundation, for the Charles L. Battaglia Memorial Scholarship for a Waterloo graduating senior pursuing a degree in elementary education; checks may be sent c/o Linda Wadhams, Waterloo Educational Foundation, Main Street Shop Centre, Suite 212, Waterloo, NY, 13165.
Charles was born on Nov. 2, 1926, in Geneseo, NY, the son of Charles L. and Lena Pecora Battaglia, Sr. He was a 1944 graduate from Geneseo High School, where he played on the golf, soccer, basketball, and baseball teams. In 1943, Charles hit a double that knocked in the winning run resulting in the first baseball championships for Geneseo High School. In 2014, he was inducted into the Geneseo Hall of Fame for his lifetime achievements.
In W. W. II, he joined the U.S. Navy (Sea bees) 114th Construction Battalion and underwent boot camp at Sampson Naval Base, then was stationed in the Aleutian Islands, Attu, Alaska. He was honorably discharged. He graduated from SUNY Geneseo with a BE degree in Elementary Education, where he was President of the Men's Athletic Association, played varsity baseball, basketball and soccer, and was a member of Delta Kappa Epsilon fraternity. He completed graduate work at Cornell University and was awarded his Master's degree in Elementary Administration & Supervision from Syracuse University.
From 1949-51 he served as a Special Education /Reading teacher at Moravia Central Schools in Moravia, NY, where he taught 7th and 8th grade social studies, coached varsity baseball, JV basketball and soccer. He was also a Driver's Ed teacher. From 1951-55, he taught as a 6th grade teacher at Waterloo Central Schools, then served as principal at Skoi-Yase Elementary School in Waterloo, NY and Elementary Administrator for Curriculum & Recruitment for grades K-6 until his retirement in 1988. However, he returned as Interim Principal for Romulus Central School District that same year, where he was placed on the school's "Wall of Fame" wall. He was the Organizer/Supervisor of the Waterloo Central Schools Summer Youth Program (at Skoi-Yase, Lafayette and Moravia Schools). He was named an Honorary Life Member of the Waterloo Fire Dept. for initiating and implementing the first Fire Safety Programs for all elementary students in the district. He was even a Waterloo Central School emergency bus driver. He was the first advocate for playgrounds at schools in New York State, and was instrumental in getting a playground built at Skoi-Yase School, it was formerly named the Charles L. Battaglia Playground: A Child's Place in his honor.
He held Professional Memberships in NY State Teachers Associations (Central-Western Zone), Finger Lakes Elementary Administrators & Supervisors (FLEAS) – Seneca, Yates, Ontario & Wayne counties (Chairman for one year), NYS Elementary Principals Association, Life Member of NYS Congress of Parent-Teacher Associations, Waterloo Central School Supervisors for Curriculum Development, Waterloo Teachers Association and Past President. He was a former member of Silver Creek Golf Club & Seneca Falls Country Club, where he was director of the Children's Youth Golf Program for 25 years. He was a former member of Waterloo Rotary Club, Seneca Falls Elks Club, Winnek Post 396 American Legion in Geneva, NY. He served as a Referee for JV basketball for area schools and Hobart College soccer, and as a troop committee leader for the Boys Scouts Troop 71.
Charles is survived by his wife of 65 years, Marie A. Toni Battaglia, with whom he continued his hobbies of golf, worldwide and continental US travel, and spending his winters in the South. He has travelled to the Caribbean, Italy, France, England, South America and Mexico, as well as spending winters in Florida and South Carolina.
He is also survived by his loving family, Tom (Anne) Battaglia of Seneca Falls, and their children: Michelle (Graham) Chapman and Lea Battaglia; Terry (Debbie) Battaglia of Seneca Falls, NY and their children: Chris (Mae) Battaglia and Holly Battaglia; Cara-Leigh (Darrald Jensen) Battaglia of Seneca Falls, NY and their children: Christal (Dan) Kent and Nickoli Jensen; his sisters, Fran Battaglia Kelly of Geneseo, NY and Gerri Battaglia Dickens of Tampa, FL; and several nieces and nephews.
He was predeceased by his parents; his brothers, Sam (Joyce) Battaglia, and Russ (Sally) Battaglia; and sister, Rose Battaglia.
Condolences for the family may be sent to www.coegenungfuneralhome.com.