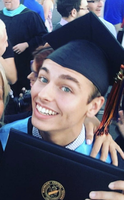 Tristan Christopher Folk
WATERLOO – The memorial mass for Tristan Folk, who died, Thursday (December 21, 2017) at home, will be 10 a.m. Friday (Dec. 29) at St. Mary's Catholic Church in Waterloo and a Celebration of Life will be at 2 p.m. Friday at the Waterloo Main Street School.
Tristan was born on March 17, 1999, in Springfield Mass. To Christopher and Tiffany (Hall) Folk. Tristan was a giant amongst men, an individual whose kindness, sincerity, spirit, zest for life, humor, and intellect were of such a high caliber and quality that his humility was inspirational.

Though Tristan was only on this earthly plane for 18 short years, his sphere of influence was truly amazing. Tristan's list of accomplishments and activities exceeded that of many people three times his age. Tristan was a community oriented volunteer. Tristan volunteered at the St. Mary's Festival, he was a member of the Youth Interact Club, (part of the Rotary International Organization). As such he assisted with multiple service projects, including can drive, community clean-up efforts, Halloween projects, as well as the Relay for Life, and of course the Memorial Day Events which included the centerpiece "Extravacanza" can displays. Tristan also participated in the Flag Day Services at Vince's Park and delivered an address in addition to raising the flag. Tristan also participated in the National Day of Prayer which was held in Lafayette Park. Beyond many hours of volunteering, Tristan was involved in many extracurricular activities. Tristan joined boy scouts in 2012 and was a member of Troop74. Tristan advanced pretty quickly through the ranks and the Scouts became an extension of his natural family. Tristan relished his time in the Scouts and it was during these years that he emerged from his shy, quiet self and became an outgoing and magnanimous individual. It was during his Scouting years that he grew as a natural leader and mentor. He provided guidance to the younger scouts and helped those transitioning from cub to boy scouts.

In his entire eighteen years, I never heard Tristan say no to anyone, if there was a person in need or a task that needed to be done, Tristan was on it, whether it was fun, or arduous, or whatever the case may be. Tristan completed his Eagle Scout project which was directed at the Waterloo Library and Historical Society or which he refurbished a number of items, he designed and built a book donation box, rebuilt the bicycle rack, and reorganized an entire upstairs section of the library that was previously used merely for storage and is now available for general use. It is difficult to put into words the pride and love that he had for his community, and everyone in it. In addition to never saying "no," Tristan, to my knowledge, never once uttered an unkindword about or towards anyone. Tristan was one of the first scouts from Troop 74 to be nominated to and attend the National Youth Leadership Training held in Naples, NY. Following this, Tristan was one of only a very select few scouts to be asked to return the next year to serve as a mentor and counselor for participants. At the end of the session, they selected leaders from amongst the ranks. Tristan and one other boy ran for leader of their group. The other boy won the election and when Tristan talked to us about this, he told us that he voted for the other boy. He said "Mom, and Dad, I couldn't vote for myself because it would be improper to vote for myself, so I voted for the other boy" - the other boy won by one vote.

After NYLT, Tristan was selected by his NYLT peers, and staff to attend the elite Boy Scout National Youth Leadership Training -Leadership Academy which was held just outside Washington, D.C. This program was designed to train Scouts to be future leaders and staff members for future NYLT academies. Tristan then returned the following year to act as a staff member and to help train the incoming class of NYLT attendees. In true Tristan fashion -always giving back. Tristan was also selected for and attended the American Legion Boys' State program in the summer of 2016. He had a wonderful experience while there and very much enjoyed being part of the legislative process and working to get legislation enacted. While there he also played in the Boys State band.

Tristan had a unique perspective, when he first learned that children were receiving rewards for reaching certain levels for reading books he came to us and said, I'm not going to fill out the form, I read to learn and because it is important and I don't deserve any award or recognition for doing so. Again, that is who Tristan was, and therefore, Tristan's awards are only those that were earned, never sought. Tristan was inducted into and a member of the National Honor Society, he received the Student of the Quarter Award, numerous scholastic awards, Clarkson University gave him a Leadership Scholarship Award, he was also given a Good Citizenship Award from the Daughters of the American Revolution; as well as earning a merit-based scholarship from the Rochester Institute of Technology. Tristan was a member of the RIT pep band, and the RIT cyber security club. He was also a member of the Waterloo golf team, track, and field, indoor track, the jazz band, as well as the Waterloo High School band, where he played the trombone.

Tristan was a man of unquestionable honor and integrity, his was a life full of giving, loving, and understanding. On December 21, the world lost a beautiful soul, when Tristan Folk left this earthly plane and moved on. Tristan was a beloved member of his community, an individual whose warmth of spirit, his empathy, his intelligence, his logic, and his purity and innocence permeated every aspect of his life and extended his sphere of influence significantly more than most people's. He was the quintessential thinker, and scholar, he loved reading, golfing, the Scouts, becoming an Eagle Scout and serving as a mentor were some of his proudest moments. He was first and foremost a loving son and sibling to his two younger sisters, Trinity, and Calista, as well as his older brother, Christopher. Tristan was everything that we should all aspire to be. I know I will live the remainder of my life trying to live up to the person he was.
Tristan Folk is survived by his loving siblings Christopher, Trinity, and Calista; his warm and caring mother, Tiffany, from whom all his goodness was derived, his father, Christopher; his grandmother, Carolyn Robinson, his grandfather, Floyd Folk; his godparents Barry and Kathleen Porsch; and his beloved beagle, Kai; and countless aunts, uncles, friends all of whom Tristan loved with his heart and soul.
Tristan was pre-deceased by his grandfather, Andrew F. Hall