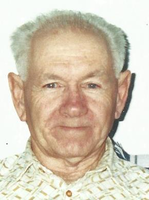 Ronald Floyd Roloson
Seneca Falls – Ronald F. Roloson, 86, of Seneca Falls, died Monday (April 9, 2018) at Seneca Nursing and Rehabilitation Center in Waterloo, NY.
Friends may call from at Coe-Genung Funeral Home in Waterloo, NY. The funeral service will immediately follow. Dale Andrews, pastor of Assembly of God Church in Geneva, NY, will officiate. Burial will be in Evergreen Cemetery in Huron, NY.
In lieu of flowers, memorial contributions may be made to the Waterloo Sportsmans Club, P.O. Box 269, Waterloo, NY, 13165 or
Ron was born Dec. 8, 1931, in Waterloo, NY, the son of Floyd A. and Elsie Craig Roloson. He was a 1950 graduate of Waterloo High School. Ron started working as a farm hand for Seward Dadson. He left farming in 1967 to work for his father and brother at Brewer General Contractors, until he retired. Ron was a member of Waterloo Sportsmans Club and NYS Bluegrass Association.
He is survived by his wife, whom he married July 4, 1953, Catherine A. Garner Roloson; sons James (Sally) Roloson of Seneca Falls, NY, Richard (Michelle) Roloson of Richland Town, PA, and Dale (Karen) Roloson of Seneca Falls, NY; daughter, Sandra (Karle) Landuyt of Clifton Springs, NY; sixteen grandchildren; seven great-grandchildren; sister, Eleanor Baker, of Tulsa, OK; sister-in-law, Janice Roloson of Waterloo, NY; many nieces and nephews.
Ron was predeceased by his parents; brother, Raymond A. Roloson; daughter, JoAnn K. Roloson; and sister, Marilyn Rice.
Condolences for the family may be sent to www.coegenungfuneralhome.com.