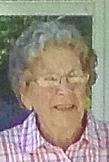 Rena Lucille "Warner" Warfel
Waterloo/Danville, PA – Rena L. Warfel, 91, of 38 W. Main St., Waterloo, NY, died Saturday (March 31, 2018) at Clifton Springs Hospital and Clinic, Clifton Springs, NY.
Friends may call from 2 to 4 p.m. Sunday (April 8) at Coe-Genung Funeral Home. The graveside service will be 2:30 p.m. Monday (April 9) in Millersville Mennonite Cemetery, Millersville, PA. Rev. Phil Kneier, a retired minister, will officiate.
Memorial contributions may be made to Pathway Home of the Finger Lakes, P. O. Box 516, Seneca Falls, NY, 13148.
Rena was born Jan. 17, 1927, in Mason City, Iowa, the daughter of Bert and Clara F. Wolfe Warner. Rena married her husband, Leon M. Warfel, Nov. 7, 1945. In earlier years, she was active in church where she taught Sunday School, a Good News Club and sang in the choir. She and her husband, enjoyed auction, flea markets, traveling, fishing, camping, rock and mineral collecting. After Leon retired, they moved from Lancaster, PA to Danville, PA, to be near their son, David and his family. Rena was always exuberant and tireless. She enjoyed giving of herself to her family and will be greatly missed.
She is survived by son, Larry (Beverly) Warfel of Waterloo, NY; daughter-in-law, Anne M. Warfel of Bloomsburg, PA; fourteen grandchildren; sixteen great-grandchildren; and three great-great grandchildren.
Rena was predeceased by her husband, Leon M. Warfel; son, David J. Warfel; daughter, Carol Jean Warfel; and brother, Vernon L. Warner, who died while serving in the Army Air Corps.
Condolences for the family may be sent to www.coegenungfuneralhome.com.