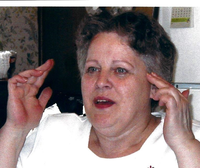 Rose Mary Gillotti
WATERLOO– Rose Mary Gillotti, 73, of 14 Center St., died Sunday (March 4, 2018) in Geneva General Hospital, with her loving family by her side.
There will be no calling hours. The memorial mass will be 10 a.m. Saturday (March 10) at St. Mary's Catholic Church in Waterloo, N.Y. Rev. James Fennessy, pastor of the church, and Rev. Paul Bonacci, pastor of St. Pius Catholic Church in Chili, N.Y., will concelebrate the service. Burial will be in Springbrook Cemetery, Seneca Falls, N.Y.
In lieu of flowers, memorial contributions to the organization of one's choice.
Rose Mary was born Jan. 2, 1945, in Waterloo, N.Y., the daughter of Willis J. and Ellen L. Johnson Brown. She was a 1963 graduate of Waterloo High School. Rose Mary was employed at various businesses in the Finger Lakes Area. She was a communicant of St. Mary's Catholic Church.
She is survived by her husband of 52 years, whom she married Aug. 28, 1965, Joseph J. Gillotti, Jr.; sons, Nicholas (Charity) Gillotti of Waterloo, N.Y. and John (Barbara Tuttle) Gillotti of Camillus, N.Y.; daughters, Roxanne (Todd) Villano of Newburgh, N.Y. and Rhonda (Kevin) Ramph of Webster, N.Y.; eleven grandchildren; two great-grandchildren; a third great-grandchild expected at the end of this month; many nieces and nephews; very good friends Dory Stuck, Pat Morrin, Sharon Vreeland, and Carol Guererri.
Rose Mary was predeceased by two sisters, Judy Newstead and Bonnie Lou Brown.
Condolences for the family may be sent towww.coegenungfuneralhome.com.